10339 reads
A number of "A Contrario" on the basic income
The twenty-first edition of the interdisciplinary social science journal « A Contrario », entirely devoted to basic income, was published:
« Un revenu de base – une responsabilité citoyenne » A basic income - a civic responsibility
A contrario N°21, Serge Margel (dir.), 172 pages.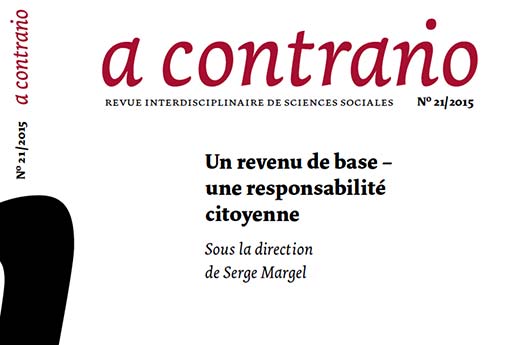 Online consultation on Cairn.info and sale on the e-readers.ch.
"Before the people's initiative for " unconditional basic income ", a few months of general referendum, the state of economic and political scene reports to a challenge. This new situation, which gives citizens the opportunity to decide, or to decide for a new autonomy, defies any action, commitment, responsibility, but also thought. What is he going on, what will happen? How to think this unprecedented event in our societies, our cultures, our traditions, our habits? How to confront what is perhaps never happened in history? Of course we must ask the question of work, status, function, and their social integration power, strength of economic production, but this is mostly to reconsider its value regardless of the assigned part of the professions. We must rethink and reinvent the work autonomy…" Serge Margel