3765 reads
Come dividere in due il tasso di povertà (è facile)
Term:

Come dividere in due il tasso di povertà (è facile)
« Negli Stati-Uniti, ci viene detto generalemente che la povertà sia un problema molto complicato, che per essere risolto chiede decine di riforme in ambiti tanto diversi tra loro come l'istruzione pubblica, la formazione ed il matrimonio. Ma non è vero. Una parte importante della povertà puo essere risolta, a livello politico, con una comune facilità. Come ? Basta dare soldi ai poveri. »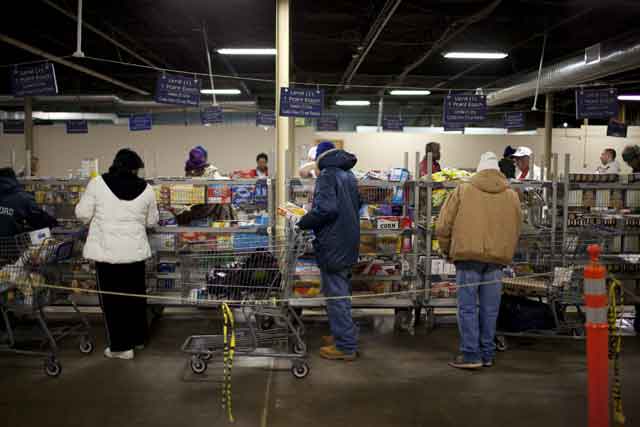 Negozio di generi alimentari di azione sociale (Reuters)
« Quest'idea attira anche una gamma interessante di sostegno politico. Coloro che difendono il concetto di un reddito di base provengono infatti da tutti gli orizzonti politici, dall'ala sinistra con quelli che sono a favore della ridistribuzione come Martin Luther King, ai conservatori come F.A.Hayek, Milton Friedman e Charles Murray. »
« Questa sicurezza non dovrebbe soltanto impedire alla gente di cadere nella povertà. Il reddito di base potrebbe permettere ai lavoratori di chiedere migliori condizioni salariali e lavorative, perché sapranno che avranno sempre una base sicura. In altre parole, potrebbe equilibrare le regole del gioco per i 99 per cento dei meno avvantaggiati. »
Questo articolo uscito sull'Atlantic magazine (milioni di visitatori mensili) il 29 ottobre dimostra che l'introduzione del reddito di base negli Stati-Uniti è economicamente fattibile.
Titolo oroginale: How to Cut the Poverty Rate in Half (It's Easy) (in inglese).