13652 reads
General Assembly of BIEN-Switzerland
Term: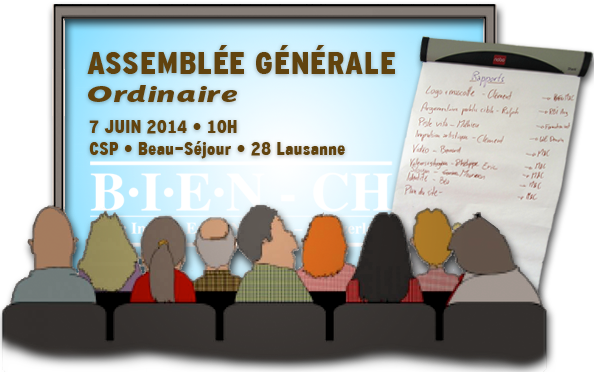 The ordinary general assembly of BIEN-CH took place:
Saturday, June 7th 2014, 10am
CSP Fraternity room, Place Arlaud 2, 1003 Lausanne
It was followed in the afternoon with a presentation session and animation proposed by Generation-RBI, the Romand action group for the "federal initiative for a basic income" and member of BIEN-CH.
A Canadian buffet was served between two: sandwiches, delicious salads and other home made dishes, the whole accompanied with soft drinks, were shared on the terrasse.
For the friends of Basic Income, the occasion was too good to be missed. They were thus quite a lot at the meeting!
BIEN-CH GA agenda was:
Greeting
Meeting Minutes of General Assembly from June 1st 2013
Annual Activity Report
Presentation of 2013 consolidated annual accounts reports
Budget 2014-2015
Membership Fee 2014-2015
Statuses
Elections
Propositions (to be received by the committee before May 31st)
Open topics
p.s. : Only members with up-to-date membership fee have voted at the general assembly.